Free At-Risk Botanical Seeds With All Orders!
We are proud to announce the launch of the Mountain Rose Herbs Seed Stewardship Project. In an effort to raise awareness and help replant botanicals in need of our help, customers can now opt into receiving a packet of free seeds with their order.
Learn More 🌱
For food, family, and future, we are passionate about organic agriculture! We're working to change the world one botanical at a time.
Through ethical and responsible sourcing, we proudly offer one of the largest selections of certified organic herbs, spices, and botanicals in North America.
Sustainability is the only business we know. We put people, plants, and planet before profit with everything we do.
LOOKING FOR FRESH IDEAS?
SIGN-UP TO RECEIVE NEW RECIPES, EDUCATIONAL RESOURCES, AND MORE
By clicking the submit button you subscribe to our newsletter and acknowledge you have read and understood the Mountain Rose Herbs Privacy Notice and consent to the processing of your personal data for marketing purposes.
THE LATEST FROM OUR BLOG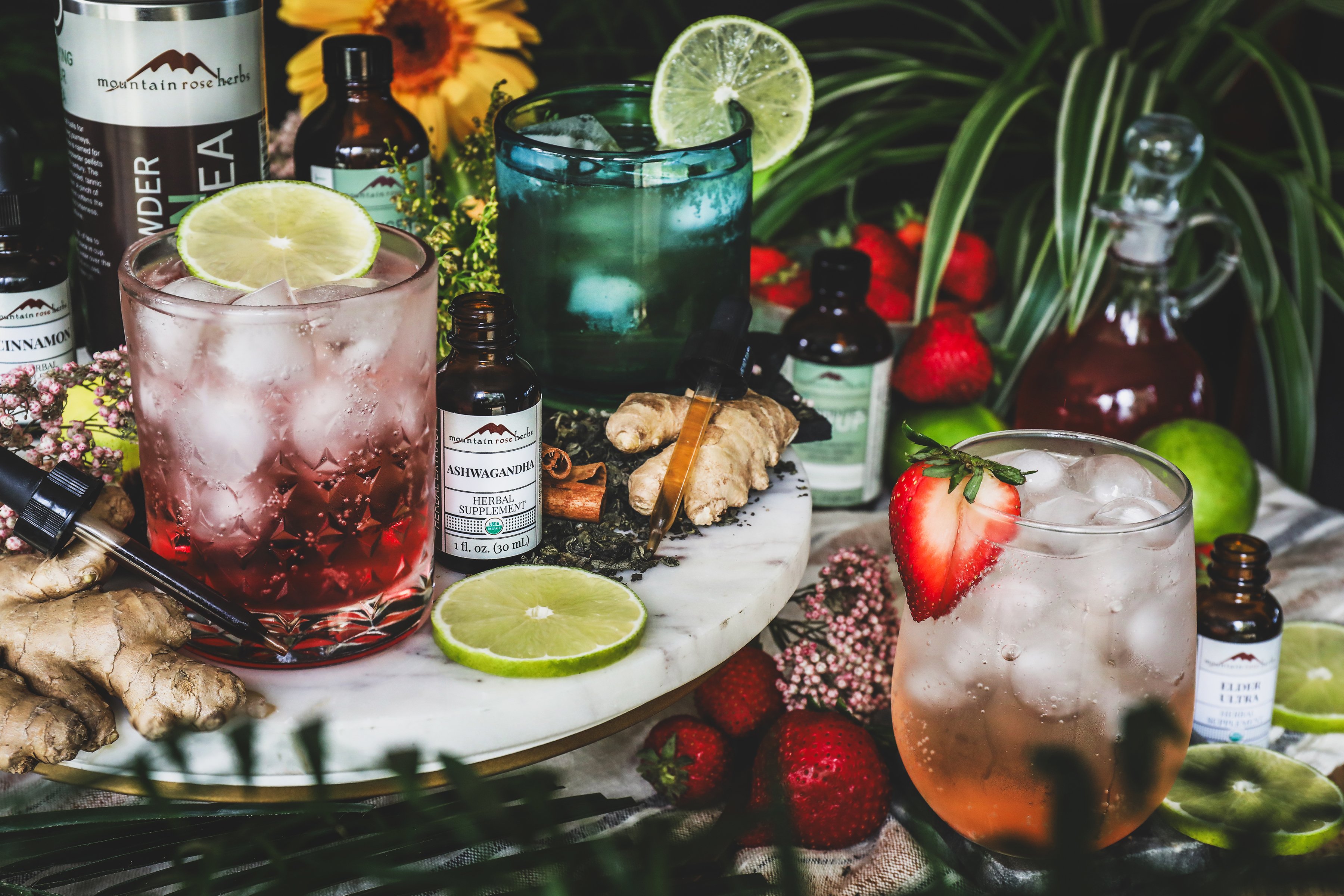 3 Refreshing Functional Fizzy Drinks With Herbal Extracts and Syrups
When the thermometer starts pushing up into the 90s, my good attitude takes a corresponding nosedive. As a Western Oregon pluviophile, I prefer my summer heat in small doses, preferably bookended by big cooling rain storms. So here we are in the annual dog days of summer when the days and nights are too hot, there do not appear to be any rainstorms on the horizon, and my whole self is on a 24/7 quest to pretty much always have something cold, hydrating, and nourishing in my hand to refresh my body and soul. Not only does this wonder-beverage need to be a delicious vehicle to support deep hydration and body and mind wellness, but it also has to be easy to whip up at a moment's notice. Fortunately, I am married to a talented mixologist. When the weather gets hot, he makes sure to have all the ingredients on hand for easy beat-the-heat carbonated drinks that include herbal extracts and syrups for an added wellness boost.
Check out what's on sale
We search the world for organic goodness. Check out what's on sale!
Ginseng Root Whole, American
Tonka Beans Whole
Soul Roots Planner & Journal
Opopanax Resin
Guarana Seed
Tansy
Red Root Powder
Poppy Seed
Pau d' Arco Bark
Orris Root
Olive Leaf
Muira Puama Bark
Mugwort
Motherwort
Maqui Berries
Lime Peel Powder
Lemon Verbena Powder
Guggul Gum
Elecampane Root
Elecampane Root Powder
Dulse Flakes
Codonopsis Root
Chive Rings
Licorice Root Slices, Chinese
Carob
JOURNAL/CATALOG
Our 160-page magazine-style journal features articles from esteemed guest authors about herbalism, organics, sustainability, and projects that inspire us. Best of all, it's FREE.
VISIT OUR STORES
MERCANTILE
10am–6pm Monday–Saturday | 10am–5pm Sunday
FARMER'S UNION MARKET, EUGENE OREGON
Nestled in unique must-visit downtown Eugene, Oregon in the Farmers' Union Marketplace, our Mercantile store gives you a vintage apothecary spirit, with a modern twist. We designed our store with the intent to give our customers a feel of coziness, character, and a space to comfortably delve into some herbal goodness.
AROMA BAR
11am–7pm Monday–Saturday | 11am–6pm Sunday
FIFTH STREET MARKET, EUGENE OREGON
The 5th Street Public Market is in the heart of Eugene's Historic District. A premier destination, it is known for its enchanting courtyards, shops, eateries, and tasting rooms. Surrounded by the area's finest restaurants, coffee, shopping, parks, and community events, the 5th Street Market has everything you need in one stunning, central location in downtown Eugene.